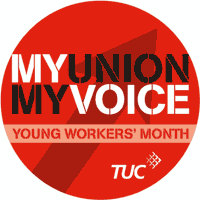 November is officially TUC Young Workers Month, where the affiliated trade unions are all putting on a range of events, campaigns and resources dedicated to getting young people involved in trade unionism. PCS has been at the forefront of getting Young Members on the agenda of the wider trade union movement and is taking its much celebrated Young Workers Week and rolling into Young Workers Month.
Our aim, to recruit, develop and organise more young people into our union, to train them up and give them the confidence to become the next generation of union activist. We've sent out circulars to all branches to prepare them for this month and we want branches to be talking to their young members, encouraging them to join the Young Members Network and getting active in the union.
Young Workers activity is important to undertake in your branch and should be done alongside and in conjunction with other traditional activity. The average age of a trade unionist is increasing every year across the movement and the PCS is no exception. Young members today are the first generation to be unlikely to have had parents in the trade union movement and so will often not know about trade unions, what they're about and why they should join. If we want to continue to build our branches and our union, we need to ensure we are targeting young members.
What you can do in your branch:
Distribute the new Young Members Network Join forms & speak to them about getting involved. They can also join online
Send round the latest young member newsletter to everyone in your branch
Hold a workplace meeting on issues relevant to your young workers
Ask young members to be involved in local branch activity signing up members to direct debit
Ask your regional young members convener to attend your branch to speak to young members and support any activity
Invite a young member to observe your BEC and become the Young Members Officer
Get in touch with the Young Members Network about young members in your branch and what we can do to support you
Across the UK, regional Young Members conveners have been organising events as well and will be following this up into next year with training and regional meetings, so get in touch with us or your local convener if you want to know more and get involved. We'll also be posting articles on here from young members for young members, so keep checking back and share with your branches and YMs!